---
ECOCAMP
---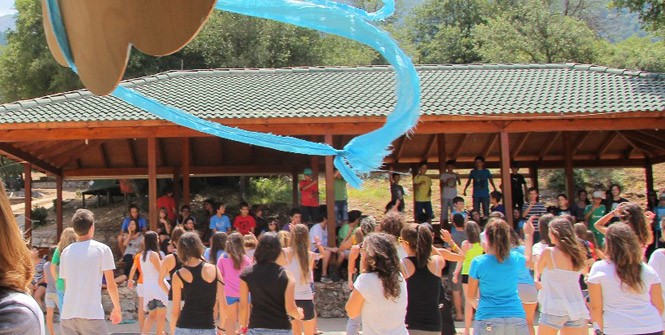 The wonderful camping program of ECOCITY takes place in the summer, in the magical and lush green Rodea, a specifically chosen area of Kalavryta, where the permanent facilities of the Camp Centre for Environmental Awareness and Education are located. The aim of the ECOCAMP is to connect the city youth with nature, through an experiential approach to environmental issues.
ECOCAMP, the environmental camp for teenagers, is held for more than 15 years now in a fir forest, in a location of outstanding beauty at the foot of Mount Erymanthos, where our mythology has connected nature with legendary achievements and actions while our history binds tradition with respect for water and land. It is in this area where Heracles (Hercules), the ancient hero, chased the Erymanthian Boar.
At the ECOCAMP, young boys and girls have the opportunity to live in spaces of natural beauty and follow a memorable and rewarding programme of informative, experiential, and recreational environmental activities. They get to know the surrounding area through hiking, and visit beautiful locations on mountain bikes. The activities are related to ecology as well as traditional Greek culture.
City-kids have the opportunity to become aware of environmental issues and familiarise themselves with the biodiversity of our incredibly beautiful land. Through a pleasant time living in nature and through the carefreeness of friendly group life, young campers will take part in themed activities about air, water, and land, enriched with traditional cultural elements such as making bread and baking it in a wood oven, or growing plants and fruit crops.
In the ECOCAMP, teenagers are at the centre and the aim is to encourage them to discover nature and become environmentally aware through the joy of companionship and friendship.
The facilities are permanent and include tile-roofed buildings of total capacity of 200 people, accommodation, kitchen, medical care facility, sports courts, and swimming pool.
The programme is open to young boys and girls aged 13-16. Parents requiring more information can contact ECOCITY Monday to Friday during working hours at this number: 0030 210-6196757.